Welcome to this month's roundup of type-related information and entertainment. Today, we go to a galaxy far, far away, take a typographic tour down Broadway, see what it takes to create a Chinese font, wax nostalgic about punctuation that never caught on, find the world's most expensive-looking font, greet the public preview of FontLab VI, wonder if graffiti is fun or dumb, discover an amazing paper archive, learn about signcrafting and stone carving, ponder what's next for magazines, see the beauty of quantum blackboard scribbles, learn about all sorts of different space characters, tour the secret libraries of London, and much more!
What better way to start out this month's column than with a look at the typography of Star Wars? Yves Peters here examines the Star Wars typeface choices through the decades.
Several writers and inventors in the last century tried to introduce new marks of punctuation into the English language – but they all failed. The BBC's Keith Houston tells their story.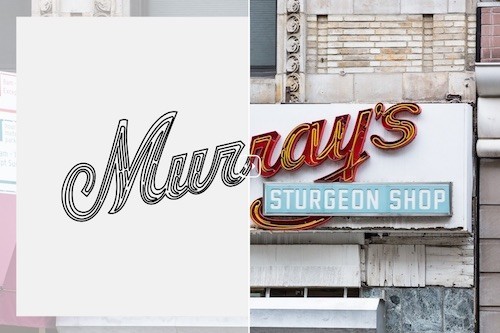 I love this project! A team of awesome people biked the length of Broadway in New York City, photographing some of the great lettering there. They've here documented 26 of the 200 samples they came across, arranged by neighborhood and type classification. A lovely typographic tour through Manhattan.
I count myself very lucky to be a type designer who works mostly with the Latin alphabet. If a Latin-centric font approaches a thousand glyphs, that's fairly huge (and should cover somewhere near 100 languages). Creating fonts is complicated enough with this set of glyphs. I can't even imagine creating a Chinese font. A simplified version of Chinese requires 7,000 glyphs; a traditional Chinese font requires 13,000.
Speaking of designing non-Latin type, here's an interview with Erin McLaughlin on her process of designing South Asian typefaces.
A talk from TypeCon2015, by typographer Joseph Alessio, about the history and aesthetics of stenciled type.
Spoiler alert: Didot. The gist of this small survey is that low-contrast, bold, sans serif typefaces with rounded ends appear cheaper, while high-contrast, light-weight serif fonts appear more expensive. The research was done by Sarah Hyndman, typographer and author, who is unfairly making us wait until June for her next book, Why Fonts Matter.
As we've been reporting, Oxford's Bodleian Libraries have been hard at work digitizing their collections. This month's update: The Libraries' collection of over a million maps and half a million printed music scores can now be discovered by searching SOLO, the Libraries' online catalogue.
Scott Clemons gave this talk at [email protected] (at The Cooper Union in New York City) about 15th Century printer Aldus Manutius. Aldus applied the new technology of printing with movable type to the difficult task of printing Greek, and as a result, virtually the entire surviving Greek canon found its way into print for the first time.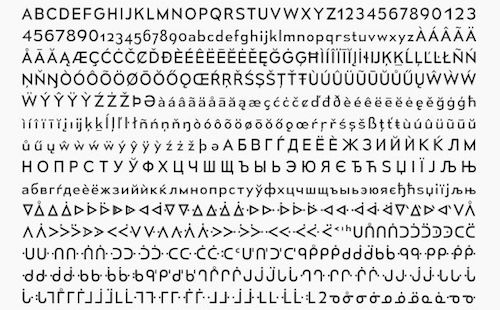 Canadian font creator Ray Larabie, famous for creating hundreds of free fonts, has given away more of his work, this time to the Canadian government. Larabie added glyphs for Canadian aboriginal languages to the typeface, which surely made this project incredibly labor intensive. Canada paid him nothing to update and customize his free font Mesmerize for government use. I guess they've got to pay for all of that free healthcare somehow. (Nota bene: Larabie didn't ask to be paid.)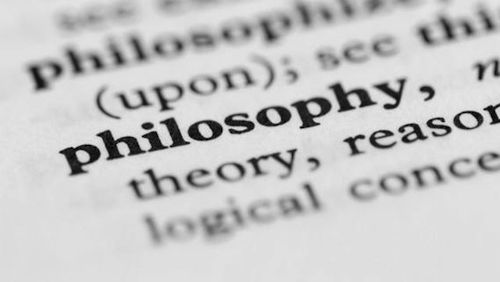 It's rare that my two favorite disciplines — typography and philosophy — intersect, so I was thrilled to stumble across this piece on the philosophical aesthetics of fonts. The post turns out to be a précis of a podcast on the subject, with artist Alexandra Grant.
A talk from Kerning 2015, by typographer Indra Kupferschmid, about choosing and using typefaces in design.
Well, well, well! After years of rumors and trolling, FontLab has finally released a public preview of their next version of FontLab — their font design and creation software. I've played with it a little bit, but it crashes on me too often for me to really give it a good trial. I am excited by a lot of the features they're promising, and I'm optimistic that they'll iron things out in the near future. I'm your biggest fan, FontLab, and I'm rooting for you!
We're seeing better and better free fonts released these days, with large character sets and many family members. The Butler family comes in seven weights and seven stencil weights, and is sort of a transitional/modern hybrid. Great stuff!
TypeMedia is an intensive one year master program held at The Royal Academy of Art, The Hague in The Netherlands. This year's student typeface designs are on display here. They're all great, but I particularly like the sample of Koppla from South Korea's Minjoo Ham.
A humorous but informative piece from The New Yorker about the diaeresis, not to be confused with the umlaut.
There is so much pseudo-science out there regarding typefaces and their comprehension by children, dyslexic, visually impaired, and aging persons. (Particularly regarding dyslexics.) Here's a scholarly essay that will hopefully clear up some of the issues out there.
Bookbindings from the fifteenth to the eighteenth century often used manuscripts from the Middle Ages to provide structural support. Dutch researchers are now using fancy x-ray technology (Macro X-ray Fluorescence Spectrometry) to read these hidden pages without removing or damaging the bookbinding. Yay, science!
A joint North and South Korean excavation project discovered a piece of metal type from the 14th century, featuring what seems to be a Chinese character meaning "constant," "sole," or "lovely."
With the recent death of Adrian Frutiger, much has been published on the web about his remarkable career. Here, Yves Peters republishes his review of a classic book on Frutiger. As Peters notes: "In early 2009 John L. Walters asked me to review Adrian Frutiger – Typefaces: The Complete Works for Eye, the international review of graphic design. It was originally published in Eye 71, the Spring 2009 issue. I am republishing my review in respectful memory of, and with gratitude for Adrian Frutiger, considered by many to be the most important type designer of the twentieth century, who passed away three weeks ago."
An anti-graffiti propaganda piece, in the guise of an educational film from 1976. Priceless kitsch.
Some beautiful 3-D typography, for your browsing pleasure.
How does your typographical knowledge stack up?
Typographer extraordinaire Tobias Frere-Jones gives a talk on the use of letterforms as a means of security for citizens and governments alike. He focuses on American banknotes from the Colonial period to the present day, and the role of type in preventing forgery.
It's getting easier to create fonts and publish them, which is great. But of course the downside to this is a lack of quality control. This talk reports on a current research collaboration between Reading and Google to develop a framework for ensuring a minimum level of typeface and typographic quality.
Don't get me wrong, I love the computer era and all its benefits, but it makes it all-too-easy to forget that fonts used to be things you could hold, put ink on, and throw at people. Check out this real, live, physical stencil set from Underware. 85mm glyphs you can put on a wall, spray paint through, and throw at your friends.
On the one hand, boo to the UK's Natural Environment Research Council for disqualifying Susannah Maidment's grant application on the grounds that she didn't use Arial (or an "equivalent" font). She used Calibri instead. On the other hand, boo to Maidment for not following directions. A researcher should probably be more skilled at detail orientation. On the third hand, boo to NERC for not providing a list of Arial-equivalent fonts.
When Mohawk purchased Strathmore from International Paper in 2005 the company unknowingly inherited The Strathmore Archive, a dense collection that spans the twentieth century. Mohawk didn't realize that these materials were part of the deal until eight years later when six pallets piled with cartons were discovered in a dark corner of their Albany, New York, warehouse. The boxes, which came very close to being discarded, were moved to corporate headquarters as soon as Mohawk realized that they had become the caretaker of a very rare collection.
The development of the Obsidian type family is a fascinating story, and one that wouldn't have happened without a fair amount of computer programming. Andy Clymer talks here about Obsidian's creation, and the coding behind it.
MyFonts.com here profiles German type designer Verena Gerlach, creator of font super family FF Karbid, which comes in Pro, Slab, Display and Text versions. Karbid, Gerlach notes, was flawed when it came out in 1999. A decade later, FontShop invited her to redesign the family, and she did an amazing job with it.
Type Directors Club is profiling one of their members each month, by asking them five questions to get to know them better. This month, they've selected author-educator-designer-brand strategist-podcastcaster, Debbie Millman.
Stone carver Nick Benson gets profiled in a CBS News video. Benson took over the family business from his father, and his work can be seen at the National Gallery of Art, the Yale University Art Gallery, Brown University, and the National World War II Memorial in Washington, D.C.
Here's a fascinating video of London signwriter Tobias Newbigin (who drafts and crafts all his work without the aid of computer or stencils), in the process of gold gilding on Widcombe High Street's finest Antique shop.
This is really more of a graphic/industrial design post, but I couldn't help but included it in this typography roundup. Samsung has a new television that "moves away from a preoccupation with ultra-flat screens." Instead of the usual minimalist profile, this television's profile looks like an uppercase serifed "I". Quite lovely.
Some say that print is dead. Some say that "print is dead" is dead. In any case, the modern magazine finds itself in challenging environment these days, and AIGA reports here on a recent London conference that addressed these challenges.
Morris founded The Arm Letterpress in Brooklyn, in 2004. Here's an interview with him, about how he set up shop.
Wired.com states the obvious: Font piracy is a big problem! I guess it's good to get the word out there to those who haven't thought about this before. I remember seeing my fonts for the first time on a pirate website. I was equal parts flattered and disturbed. The flattery soon evaporated.
Adobe is developing a font tweaking program called "Faces". The interface is simple and effective, and it's the sort of app that font creation programs might want to think about paying creative homage to.
"Momentum" is a 3-year project in which photographer Alejandro Guijarro travelled to the great Quantum Mechanics institutions of the world and photographed the blackboards just as he found them.
There's a long history of ornamental, raised, and dropped initials in typography, dating back millenia. Here's an article from Fonts.com, detailing how to create raised initials on the web, using CSS.
FontLab's president, Thomas Phinney, gives us a nice tutorial on how to properly set sidebearings in your font designs.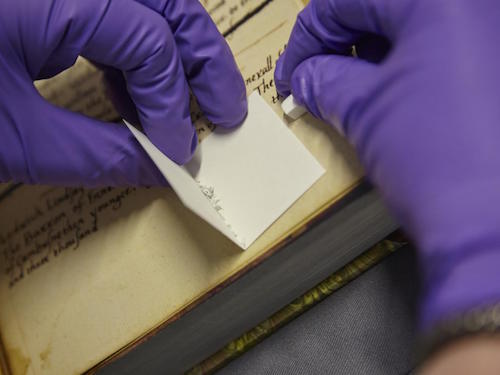 Did you know that medieval craftsmen developed a process to make goat, sheep and eight week old calf parchment look as fine as if it had all come from new-born calves? Me neither. But researchers at the University of York have looked into this in impressively fine detail, and if you're curious about it, you should read the rest of the article here.
The Unicode Standard gives us some 120,000 possible characters to use in any given font (most fonts, of course, utilize only a fraction of these), and some of these characters are different sorts of spaces. Read on to take a guided tour through the sorts and uses of these varied space characters.
Pablo Medina is releasing a (hopefully) crowd-funded typeface called Bushwick (named after his Brooklyn neighborhood). Read his thoughts about typography, gentrification, and crowd-funding here.
A decade ago, there wasn't a huge variation in screen sizes designers had to worry about. Today, the variation is tremendous, and typographically-minded designers have a lot to worry about. This article lays out some of the problems, and promises to address some solutions in the near future. Stay tuned!…
Mixing two of my favorite things: typography and guitar effects pedals! Here's a nice little gallery of some vintage pedals with cool typography on them.
Is there such a thing as a typography lover who isn't also a library lover? Or is there some sort of tautological correspondence? At any rate, I expect that this list of London libraries off the beaten path will get your typographical heart beating faster.
Edited by Alec Julien.