Welcome to this month's roundup of type-related info and entertainment. Today, we fish type out of the Thames, explore printed dance notation, get ready for an intensive type design program in Paris, light a book-scented candle, look into a mid-century ad man's desk book, gaze adoringly at typographic embroidery, pay tribute to Aldus Manutius, watch a documentary about lettercutting, track down the history of the US dollar sign's shape, learn about Chinese fonts, and appreciate the The University of Iowa Center for the Book from afar.
In 1916, an angry old Luddite started a six-month-long project of throwing a ton of metal type into the Thames River. The type was from an exclusive text font owned by Doves Press, a local printer of fine books. Fast forward to 2010, when designer Robert Green decided to recreate the Doves type electronically. After three years of work, he released it to the world, but his obsession with the typeface was just getting started. Read this article about his quest to find the original metal type.
You can read more about the history of the Doves type here.
The story of the birth of the world's first uniquely designed, 3D printed Letterpress font: A23D.
In a recent tweet, Typographica announced that Cyrus Highsmith (of RISD and Font Bureau) has won the Gerrit Noordzij Prize this year. The prize rewards extraordinary contributions to the fields of type design, typography, and type education.
Candles that smell like old books? Genius! Now your home can smell like a library or used book shop, without all the expense and upkeep. Book Lovers' Soy Candles are handcrafted in small batches in Minneapolis. (Found here.)
In last month's column, I wrote about a book from the 18th century that attempted to develop a notated system for choreography. Some readers got in touch regarding the topic, and sent me this link to an article about some of the history of dance notation, especially about the work of 20th century choreographer Remy Charlip. It's a fascinating subject that I might just have to dig into this summer. Stay tuned! And thanks to you well-informed readers out there!
An intensive, five-week typeface design program is happening in Paris this summer, starting on June 15th, 2015. Industry leaders including Frank Jalleau, Jean François Porchez, Mathieu Réguer, and Malou Verlomme will teach and mentor students in both traditional and modern craft techniques of typeface design. You can keep updated via their Facebook page.
A nice collection of photos of handpainted signs in urban shops in the UK.
Cortado is a lovely new brush script font, with an impressive 1,100 glyphs, and chock full of OpenType features.
A beautiful website for a utilitarian typeface: GT Cinetype. The Swiss company Cinetype specialized in subtitling movie reels. Mauro Paolozzi and Rafael Koch digitized GT Cinetype as a way of capturing the spirit of subtitling.
Vortice, a geometric sans serif display typeface by Miguel Sousa, is, contrary to the norm these days, being released with just a handful of glyphs. The idea is that user feedback will guide the development of future glyphs. You can read more about it on the Behance project page, or use it via Typekit.
Scans of a mid-century manual given to advertisers to get them up to speed on the basics of printing, graphic design, and typography. I particularly love the specimen layouts, giving ideas for one-page ad layouts. (There are also scans on the same web page of a book on lettering alphabets, from 1942.)
Australian twin sisters Maricor and Maricar Manalo create the funkiest, coolest embroidering you've ever seen, and most of it is typographic. (I guess it's a little rude to presume that you've never seen any funkier, cooler typographic embroidering, but I'll take that bet.) Check out their website for lots of pictures and info.
I never really understood the allure of the Oscars, myself, but I've fallen in with a dubious bunch of theater people lately, and so was coerced into watching most of the ceremony this year. Of the few redeeming things during the show, my favorite were the very graphic, very typographic title sequences introducing each award category. These gems were created by Henry Hobson.
A simple screencast of an undergraduate project of a parametric typeface designed with Glyphs. Nifty proof of concept!
There has always been a fascinatinig intersection between typography and technology, and the latest instantiation of that is Plumin.js — a Javascript library that allows you to create and manipulate fonts using code, all in a web browser. It's in alpha, so things are still largely undocumented, but the examples on their website are promising.
Japanese designer Yuzo Azu has created this clever set of rubber stamps that let you create a unique glyph every time you put ink to paper. The rubber is rounded and flexible, and so prints a glyph that varies in appearance depending on the pressure you apply and the angle at which you apply it. I can't think of a better way to step away from the digital and create something wonderfully irregular.
German creative firm Deepblue Networks collaborated with illustrator and graphic designer Florian Schommer to create this series of animated buildings shaped like the letters of their logo (DEEPBLUE). Each building-letter is filled with little Sim-like people running around, and represents a department within the firm, including art direction, copywriting, interaction design, and motion graphics.
An exhibition at the Grolier Club in Manhattan, "Aldus Manutius: A Legacy More Lasting Than Bronze," gathers 130 books from the Aldine press founded by Aldus in Venice in 1494. My favorite part of the story: a warning hung over Aldus' shop door reading: "State your business briefly, and then immediately go away." The exhibit runs through April.
An impassioned essay by Alix Christie about the important physicality of printed books. Print, despite the wailing over e-books, is far from dead — in fact, there's a resurgence of sorts happening with hardcover books, and the recent handcraft craze is fuel for the printing fire. A great read.
Typographer and educator Ilene Strizver talks about how to convey emphasis in text. She discusses italics (naturally), bold weights, all caps (dangerous, but sometimes just what's called for), varying type sizes, changing type styles, and use of color, and shows examples along the way.
Here's the trailer to the 1979 film Final Marks: The Art of the Carved Letter. You can watch all 49 minutes of it over on folkstreams.net. Final Marks is a classic documentary about lettercutting, in both monumental inscriptions and on gravestones.
Spoiler alert: The theory goes that it was originally a peso sign that got mutated into an S. Read all about it here, and check out Wikipedia for a similar story, as well as an alternate theory (that a "U" and an "S" merged).
Typographer and developer Jeremiah Shoaf analyzes the typography on the Advertising Age website. Spoiler: He finds a lot that is well done, but some aspects that could use improvement, like the inappropriate use of straight-quotes and hyphens. A very interesting and informative case study.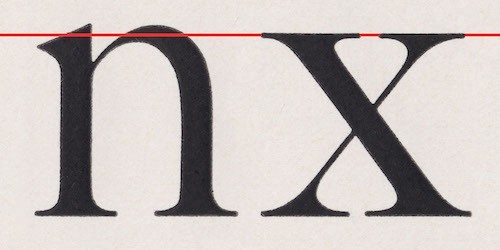 Here's a lesson in optical geometry in type design, regarding overshoots. It turns out that curved and pointed parts of glyphs usually extend past their straight-edged counterparts. These overshoots are important to maintain visual consistency in a font. Read all about this phenomenon here.
Kendra Schaefer initiates the uninitiated into the complicated and beautiful world of Chinese fonts. How many glyphs are there in a Chinese font set? Does Chinese have "serifs" and "sans-serifs"? What is the Helvetica of the Chinese font world? Read on if you're curious…
Annie Atkins was the lead graphic designer on the recent Wes Anderson movie The Grand Budapest Hotel. She created all the graphic props for the fictitious Alpine state called the Empire of Zubrowka — flags, banknotes, passports, street signs, and the like. Beautiful work.
If you're a fan of the DIY movement, and a fan of calligraphy, you might want to try this tutorial on making your own pens. Step by step instructions are provided, along with photos.
I love academia. The University of Iowa has an entire research program dedicated to the past, present, and future of the book. The program is superbly interdisciplinary and offers an MFA in the Book Arts. (Which is a degree I find myself in need of, suddenly.) My wife and I, when we were both trying to get our PhDs, joked that two recent PhDs in the humanities were going to wind up either unemployed or somewhere like Iowa. I rescind my snarky putdown of Iowa, and now freely admit that I want to go there.
Speaking of The University of Iowa Center for the Book (see above), here's a video about the program.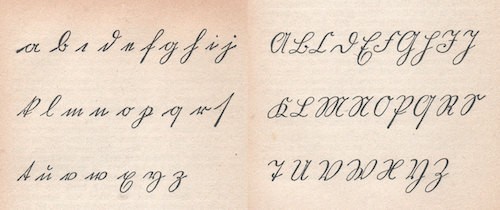 Kurrent is a style of connected Germanic hand-writing that was used between the 15th and 20th century. The style is based on late medieval cursive writing and can be understood as the written counterpart to blackletter typefaces. Read this post to explore the history of Kurrent, from the 15th century through World War II.
Via Twitter.
"If you can talk about fonts, you can talk to anyone."
---
Edited by Alec Julien.