Welcome to this month's roundup of type-related info and entertainment. Today, we make Helvetica cookies, tumble for ligatures, uncover a longstanding typesetting mistake by the New York Times, ponder typefaces for cities, get reacquainted with ASCII art, prognosticate about responsive fonts of the future, get to know font designer Carlos Fabián Camargo Guerrero, talk about printed choreographic notation, visit New York City's typographically rich tiled subway stations, and more.
MyFonts.com reports on their most popular fonts for 2014 (based on sales revenue, not number of copies sold). Some of our favorites on the list include Glober (a well-crafted, well-balanced grotesque with 18 family members), Adorn (an eclectic collection of hand lettering and ornaments from Laura Worthington), and Choplin (a workhorse slab serif family with 18 members of its own).
Cookies rendered in Helvetica? Yes, please!
I remember when my mom brought home an IBM Selectric in the late 70s. Seeing how the font could be changed just by swapping out a magical sphere was a revelation to me. Until then, I had thought that a typewriter's output was whatever it was, and that users had no say in the matter. Little did I know what the imminent arrival of the PC would bring, typographically!
Remember ASCII art? If you're of a certain age, you'll remember it gracing bulletin boards, forums, email signatures, and the like — art made out of the 128 characters available in an ASCII (usually monospace) font. This site generates ASCII art for you, automatically, in something close to a billion different styles. Enjoy the trip down old-school lane!
Designer Jonathan Hoefler has created a typeface that owes its genesis to 19th Century copper plate engraving, as well as 21st Century algorithms. The typeface looks like an old engraved masterpiece, but it was created in a virtual environment that can simulate light falling on any character. Read more about it (or buy it) over on typography.com.
Tumblr is 99% selfies and teen angst, but in that other 1% there are some gems, including this Tumblr dedicated to ligatures.
So you want to watch some typography videos… Head over to the Type Directors Club's page on Livestream. Hours of interesting typographic video at your fingertips!
Input is a flexible system of fonts designed specifically for code-writing by David Jonathan Ross. One interesting aspect of Input is its designer's recognition that monospaced fonts aren't always the right choice for coding. Read all about this rebellious idea here. And so Input was designed with a proportional set of fonts along with the more traditional (for writing code) monospaced set. Also, Input has a sans serif set of fonts, along with a complementary serif set, all of which come in multiple widths. A free version is available for private use.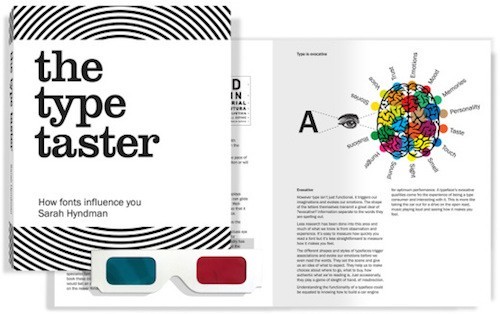 Author Sarah Hyndman specializes in exploring how fonts influence us as type consumers. Sarah has combined her knowledge as a graphic designer of nearly 20 years with her own typography research and the findings of psychologists and neuroscientists, and has presented them in this lovely-looking limited edition book, due to be available in mid-February.
A TEDx talk from the author of the aforementioned The Type Taster.
As you know if you've ever developed a web page, the headache of accommodating the quirks and flaws of the different browsers out there can be a nightmarish task. Developer and Typekit engineer Bram Stein has put together a site that lists up-to-date data on support for type and typographic features on the web, across the major browsers. (Did you know that discretionary ligatures are supported in every major desktop browser except Safari? Shame on you, Apple!)
The Type Directors Club and Monotype are sponsoring a $5,000 scholarship for a female college senior whose work demonstrates exceptional talent, sophistication, and skill in the use of typography. The scholarship is named after Beatrice Warde, the first female member of the TDC. The deadline is February 13, so spread the word!
In 1898, somebody at the New York Times added one to 14,499 and got 15,000, and the paper's issue number remained off by 500 until 2000. Whoops! Typesetting without proofreading means trouble!
Decimated by manufacturing losses, some smaller cities are turning for help to an unlikely group of people: typeface designers. Can new fonts breathe life into the postindustrial city?
If you're reading this post, you probably care about things like using genuine small caps instead of programmatically generated small caps. Likewise, you should care about using typographically correct footnote figures when you're working in InDesign. This video shows you how.
A gallery of the New York City subway system's (mostly) lovely tiled typography. Tiled signage is unique to each station, and the gallery curator here is determined to photograph all of it. So far, 118 stations have been covered.
I actually work with dancers quite a bit, when I take off my typographer's hat and put on my composer's hat, and I always ask them about the issue of choreographic notation. As a musician, I have the luxury of utilizing a standard printed notation system; but none of the dancers I know use anything like this. It's like a throwback to a world before the written word, when stories were handed down aurally. Well, in 1700 there was an attempt to standardize a notated system of choreography for ballet. And here is a beautiful book with the proof.
A blog about how culture can affect typography, with posts about taco truck typography and manhole covers.
Billed as "a conference for people who use type", Typographics runs June 5-6, in New York City. The conference is run by Cooper Union, so it ought to be good. Registration and info are supposed to be up in mid-February, so bookmark the site now, and join their mailing list.
Type designers Scott-Martin Kosofsky and Matthew Carter created a new digital Hebrew typeface called Le Bé. It's based on one of the first Hebrew movable types that first appeared in 1569 in the Plantin Polyglot Bible.
Erik Kwakkel and Beth Harris look at two manuscripts: 1) Boethius, De institutione arithmetica, c. 1100, The Hague), Royal Library, MS 78 E 59 and 2) Paris Bible, mid 13th century, The Hague, Royal Library, MS 132 F 21.
The goal of e-codices is to provide free access to all medieval and a selection of modern manuscripts of Switzerland by means of a virtual library. At the moment, the virtual library contains 1233 manuscripts from 51 different collections. The virtual library will be continuously updated and extended.
Nick Sherman looks forward to a time when fonts are genuinely responsive. "[I]n modern fonts… [a]ny variation in weight, width, stroke contrast, etc. — no matter how subtle — requires separate font files. This concept may not seem so bad in the realm of print design, where layouts are also static. On the web, though, this limitation is what I refer to as the "glass floor" of responsive typography: while higher-level typographic variables like margins, line spacing, and font size can adjust dynamically to each reader's viewing environment, that flexibility disappears for lower-level variables that are defined within the font. Each glyph is like an ice cube floating in a sea of otherwise fluid design." This post gets into some gory details, but is a great read and might be one of those pieces we look back on and say "oh, yeah, Sherman was really ahead of his time!"
Myfonts.com interviews font designer Carlos Fabián Camargo Guerrero. Guerrero specializes in lively script fonts, and in this interview relates how he got started in typography, who his influences are, and what the state of typographic education is these days.
Self-described "type-obsessed designer & overall curious person" Nina Stössinger blogs here about her experience with stone carving. It's a great read about an impractical hobby. (Check out her beautiful typeface FF Ernestine, if you're unfamiliar with her font work.)
Designer Sean Mitchell checks in with a Best-Of list for 2014 font releases. Some nice choices!
"Joris Hoefnagel (1542 – 1600) was a pivotal figure in the history of Dutch art… In the last decade of his life Hoefnagel was appointed court artist to Holy Roman Emperor Rudolf II, and it was in this time that he appended Georg Bocskay's Model Book of Calligraphy, of thirty years previous, with his own beautifully exquisite Guide to the Construction of Letters… In each he surrounds the typographic diagram with a colourful array of symbolically charged motifs and, for some, an excerpt from the Bible which begins with the letter of focus."
"Treatise on munitions and explosive devices, with many illustrations of the various devices and their uses." Apparently, in 1584, the uses of munitions included strapping them to small animals.
Edited by Alec Julien.