January 21, 2010
But will it fly?
Perhaps the most difficult part of compiling this list is not what to include, but what to leave out. There are, then, many other typefaces that should be in this list, but aren't. Perhaps some of your favorites from 2009 coincide with mine; perhaps they don't — I'd love to hear about them in the comments below. Without further ado:
by David Jonathan Ross
Who
:
David Jonathan Ross
;
Where
: Boston;
Foundry
:
Font Bureau
;
Other types
:
Manicotti
;
Climax
.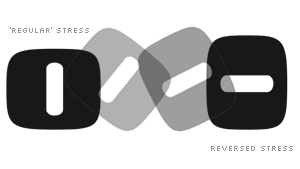 Out of the clumsiness and inelegance of the Egyptians and Fat Faces, came, in 1845, the Clarendon. It toned down some of the extremes and the gargantuan slab serifs, introducing a little modesty; in the process making it suitable for settings beyond gaudy display.
The French Clarendon is a twist on the (English) Clarendon — quite literally, a twist or rotation of the stress (see figure opposite). Though Trilby most certainly doesn't hide its roots in types like P.T. Barnum, it's much less quirky. In reducing the contrast, this French Clarendon eschews Cowboys and Indians, and emancipates itself from the circus (the French Clarendon has been dubbed the «circus type»).
David obviously has something for reverse-stress types. His as yet unreleased and delicious Manicotti is an ultra reversed-stress display face that was awarded the Certificate of Excellence in Type Design by the Type Directors Club. But I digress. Trilby, in toning done the excesses, lets the best and most useful of the French Clarendon shine through. Brilliant:
by Jean François Porchez
Who: Jean François Porchez; Where: Paris; Other types: Sabon Next, Le Monde Livre PTF, Le Monde Courrier PTF, Anisette, Ambroise, Parisine PTF, Le Monde Sans PTF.
ILT interview.
When looking at any typeface for the first time, I try to think of three words that sum up what the face is about. For Allumi those were: modern, tech, and tensile. It's certainly very different to anything Jean François has ever drawn. He describes it as Eurostile meets Frutiger, and that captures exactly what this typeface is about. The broad geometric forms of Eurostile with a dash of the warmer, more friendly Frutiger; and though not designed expressly for extended texts, it's better suited to it than Eurostile. I wouldn't be surprised to see it taken up by tech titles: magazines like dot net, perhaps, or for identity for tech and engineering companies. Xavier Dupré, writing about Allumi PTF for the French Le Typographe [English translation] blog, suggests that it would be the perfect typeface for architecture and design magazines. He's right.
I think it would also play nicely with some of the broader Japanese 'Gothics'. And don't forget, it would be a fine choice for a modern logotype (though make sure you license it first).
by Jeremy Tankard
Who: Jeremy Tankard; Where: Cambridge, UK; Foundry: Jeremy Tankard Typography; Other types: Bliss, Enigma, The Shire Types, Shaker.
Where do I begin with this one! Super-family is inadequate to describe Trilogy, so I'll go with über-super-family. A wonderful undertaking and exploration of the century that gave birth to the Grotesque, the Egyptian, and the Fat Face.
Trilogy comprises … wait for it … one-hundred and three fonts: 80 for Trilogy sans (40 roman & 40 italic), 18 for Trilogy Egyptian, & five italic fonts for Trilogy Fat Face. I won't list all the weights. I particularly like the lowercase in Trilogy Egyptian with its deep cuts — a nice solution to the overweight junctions that plague so many of the Egyptians (see figure opposite).
This really is a super suite of fonts and I'm beginning to think that Trilogy deserves a post of its own. I'll think about that. If Jeremy is reading this, yes, that's a hint. In the meantime there's a great write-up in the PDF Footnote 11.
The aim of the project was not to dictate how the types should be used, and certainly not which types should be mixed together. Rather it is intended to show that types can be used and mixed together in unexpected ways and in so doing very different levels of visual interest can be achieved.
— Jeremy Tankard
by Jos Buivenga

Who: Jos Buivenga; Where: Arnhem; Foundry: Exljbris; Other types: Museo, Museo Sans, Fertigo, Fertigo Script, Museo Slab, Anivers. Type Radio interview.
ILT interview.
Arnhem has quite the reputation for producing strong typefaces. Jos continues in that tradition. Many will know him for his hugely popular Museo and Museo Sans. Jos had the idea for Calluna whilst taking a break from his work on Museo, initially intending to draw a slab serif; a happy accident, and many months of hard work later came to fruition in Calluna, a delightful text typeface, that has already found its way into at least one book. Relatively light on the page, replete with numerous subtle details that make for a beautifully even color. Nice tension in the italic, a broad character set, and everything else you need for setting extended texts. Moreover, those serifs really come into their own when the type is used at display sizes.
by Jackson Cavanaugh
Who: Jackson Cavanaugh; Where: Brooklyn; Other types: Elefans, Superfont, Snibbles.
A grotesque at heart, though with a little humanist sans running through its veins — particularly apparent in the italics. Comes in eight weights for both the roman and italic, replete with small caps (all styles and weights) and all the usual OpenType features we have come to expect from our fonts. A very accomplished sans indeed.
by Christian Schwartz

Who: Christian Schwartz; Where: NY, NY; Foundry: Commercial Type; Other types: Farnham, Guardian, Stag, Stag Sans, Graphik, FF Unit Slab; Accolades: In 2007, Schwartz was awarded the prestigious Prix Charles Peignot.
You think you've seen tall x-heights until you see Giorgio Sans. Commissioned for the New York Times T Magazine, this one screams high fashion.I'm only hoping that fashion titles will drop their tired and overused Didones in favour of this modern, elegant, slim, clean, and tall, beautifully drawn display face. The titling alternates (though there are just a few — rounded forms of C, D, G, O, Q; and a higher contrast G & Q) really give the face extended versatility. They work beautifully to punctuate, to let in a little extra light. With six weights, this will certainly find applications outside of high fashion.
My only surprise is that there aren't any weights heavier than bold — would like to see how they might work. Despite its leanness and cleanness, Giorgio Sans has enough carefully crafted details to resist frigidity, and sing sweet songs on the page. And a serif accompaniment? Easy! Try its sister Giorgio.
by Angel Koziupa & Ale Paul
Who: Ale Paul & Angel Koziupa; Where: Buenos Aires; Foundry: Sudtipos; Other types: Feel Script, Semilla, Kewl Script, Compendium, Candy Script, Matagrosso, Koziupack, Mousse Script, Miss Le Gatees.
The Ale-Angel collaboration has already produced a number of good scripts. After the recent success of Diplomatic, comes Sudtipos' last release of 2009, Biographer, an Upright, unconnected script (I could easily imagine that lowercase giving birth to an italic). Love those flat tops and the Q that is saved from toppling over owing to its tiptoeing tail.
A gorgeous fluid script with enough swooshes, swashes, ligatures, and contextual alternates to keep you entertained for an eternity. Broad language support, alternate forms, and numerous other OpenType features are the icing on this very sweet cake.
by Patrick Griffin

Who: Patrick Griffin; Where: Toronto; Foundry: Canada Type; Other types: Ronaldson, Treasury, Bouwsma Text, Informa; Clarendon Text; MyFonts interview.

The first time time I set eyes on Memoriam, I thought Bank Script on acid. An inelegant comparison, I know. With its extreme contrast between those sweeping broad strokes, and delicate, wispy tendrils, Memoriam is both voluptuous and fine.
This is not a script for the fainthearted — it's not easy to set well, what with those insane swashes reaching hither and thither; but with a little time, respect and careful planning, this one glides in and out of the page like threads of glistening silk woven through a glorious tapestry. Having said that about its use, it can be used to good effect en masse in other non-text-centric designs (see sidebar).
Whilst big and bold, it should not be used at small sizes (and you'll need to set it even bigger if you're going to use it on screen). Some of those hairlines are just 1000th of an em wide! High contrast and a smattering of ball terminals lend the face a certain elegance, even sobriety, thus eloquently fulfilling its original brief from the New York Times magazine.
by Kevin Cornell & Randy Jones
Who: Kevin Cornell & Randy Jones; Where: Philadelphia/Santa Clara; Other types (by Randy Jones): Olduvai, The Mopeds, Eason.
Making of Phaeton. Bearskin Rug.
A brilliantly talented and prolific illustrator (& writer) hailing from Philadelphia, PA. Part super-hero, part … something else, you probably know him for his work at A List Apart, the Superest, or Mojo.
Looking hand-drawn and with its trousers pulled up high, this condensed serif display face is oddly wonderful. Randy Jones was just the right chap to bring Cornell's lettering to digital fontdom. Wobbly cup serifs and a smattering of bouncy ball terminals combine to make this single cut a delightfully eccentric face that's really fun to use. It bears some of the hallmarks of Jones' Olduvai, and comes replete with numerous wordmarks and pictographs, plus a number of stylistic alternates. I wonder what Batman and Robin have up their other sleeves.
by Alexandra Korolkova

Who: Alexandra Korolkova; Where: Moscow; Distributor: MyFonts; Interview
An impressive text debut for Russian type designer Alexandra Korolkova. In form, Humanist (or Venetian or early Old Style); in color, lighter and carrying a more generous x-height, and great for extended texts. Quite broad set, and fairly loosely spaced with particularly short ascenders.
The lowercase roman z is interesting in its reversed stress (something usually reserved for its italic counterpart.); it is unusual, though by no means unique (e.g. see the typeface Eusebius, in Anatomy of a Typeface, p. 60; and more recently, Xavier Dupré's Malaga).
I'm particularly fond of details like the parentheses and the creative percent sign. The italic is a much more modern affair, owing nothing to the 15th century. It is unfussy and fairly loosely set, and on the page compliments the roman very well. It's accompanied by a humanist sans (sharing the advanced widths of the serif) and a Cyrillic (quite an undertaking for a first text face). As I don't set Cyrillic texts, I don't feel qualified to comment on it, though it was awarded Paratype's 2009 Modern Cyrillic prize.
by Xavier Dupré
Who: Xavier Dupré; Where: Who knows!; Foundry: FontFont; Other types: FF Absara & FF Absara Sans, FF Sanuk, Vista Sans, Vista Slab, Malaga, FF Masala;
As quite the fan of Xavier's types, I was pretty excited to see this major release right at the end of 2009. This itinerant type designer already has some beautiful type under his belt. With the release of FF Reminga in 2008, I was wondering what he was going to grace us with in 2009. FF Yoga climbs to first place in my favourite Dupré types. Designed primarily for newspapers (though it will most certainly print well in numerous other environments), this serif plus sans family is so very good, and so very Xavier Dupré. In the details it's sometimes idiosyncratic, or downright odd; but those details are not a type designer's whim — instead they work together to fulfill a purpose: a solid and rugged text typeface that sets beautifully on the page. It sometimes feels a little like Malaga, but is softer in the details, smoother in the transition from straight line to curve.
I'm beginning to feel the same way about FF Yoga & FF Yoga Sans as I do about Martin Majoor's FF Scala & Scala Sans; not that they look alike — they certainly don't, but in the complimentary nature of their serif plus sans marriage. Interesting too is Dupré's approach to this super-family: as the serif and sans appear to share the same skeleton, I imagined he had drawn the serif first, and then tackled the sans, using the serif as the basis for the letterforms. However, in an interview with FontShop he reveals that he worked on both forms in tandem.
In the details, I particularly like the extra weight in the bracketing of serifs that terminate thin strokes (see figure opposite).
by Zuzana Licko
Who: Zuzana Licko; Where: Berkeley, CA; Foundry: Emigre; Other types: Mrs Eaves, Mrs Eaves XL, Filosofia, Triplex, Matrix II Display, Soda Script.
Zuzana Licko published Mrs Eaves in 1996; then came, in 2009, Mrs Eaves XL with its narrower set and larger x-height. Though many have prayed for a sans accompaniment to Mrs Eaves, the release of Mr Eaves Sans & Modern, to me at least, still came as something of a surprise — a very nice surprise indeed.
Both sans borrow something of the color, loose set, and proportions of Mrs Eaves; and, for the most part, the letterforms share the same skeleton, though, of course, with a reduction in contrast (more so in Mr Eaves Modern).
Mr Eaves Sans is avowedly a humanist sans, while Mr Eaves Modern carries less contrast and is more geometric in form, with one foot and three toes in the geometric modernist sans, and two toes (perhaps two and a half) in the neo-grotesque. Of all the styles, Mrs Eaves Sans Italic is definitely my favourite, working beautifully in text, and really charming at display sizes. Some lovely details too, like the leg of the R and the tail of the Q, reflecting the form of its seriffed counterpart. An absolutely beautiful accompaniment to the hugely popular Mrs Eaves. It's been a long time coming, but it has certainly exceeded my best expectations. Now I'm really looking forward to the planned XL versions. I'm just hoping that we won't have to wait another decade. For more details about the design, head on over to Emigre.
by Hoefler & Frere-Jones
Who: H&FJ; Where: NY, NY; Other types: Vitesse, Tungsten, Archer, Whitney, Gotham, Verlag, Ziggurat, Requiem, Knockout.
* The very first Clarendon was cut by Benjamin Fox for Robert Besley's Fann Street Foundry, Aldersgate Street, London, England, 1845. See Walter Tracy's Letters of Credit (Boston, 1986), pages 81–83.
** Be sure to read H&FJ's very interesting & informative Sentinel's Ancestors.
From Aldersgate Street,* London in the mid-nineteenth century to 611 Broadway, New York at the beginning of the twenty-first, it's been a long time coming. Sentinel from H&FJ is trademark Clarendon with its slab serifs, small aperture, vertical axis, confident ball terminals, and large eye. But just as the Clarendon marked a watershed in the evolution of the slab serif, so Sentinel marks a high point in the development of the Clarendon.
Historically,** the Clarendons were employed primarily for emphasis within text (in much the same way as we now use the italic or the bold roman), so there really was no call for an italic cut. For decades the roman Clarendon walked alone. 1953 saw the release of the thoroughly unremarkable Consort, an oblique or sloped Clarendon; but we'd have to wait several more decades before serious attempts at a true italic were made. With the release of Sentinel, we now have a grown-up, more mature Clarendon that's suited to both display and extended texts. Coming in six weights from light through book to black, all with delightful italic counterparts.
Looking for a sans serif accompaniment? Try a neo-grotesque like Helvetica, Franklin Gothic, or FF Bau; or, if you'd prefer something from the same stable, then go with Whitney (maybe), or one of the Gothams (definitely). Sentinel, the definitive Clarendon:
by Rui Abreu

Who: Rui Abreu; Foundry: Fountain Type; Other types: Orbe.
Catacumba video.
Inspired by the painted inscriptions of the Igreja de São Francisco catacombs in Porto, Portugal, Catacumba comes to us in six styles: the two contrasting titling cuts are Excelsa (cloven hoof terminals — split and splayed), and the higher contrast Moderata, that takes its cues from the Didones; the additional four fonts can be used for longer runs of texts, though this is by no means a text face. A great follow-up to the award-winning Orbe.
by Ale Paul
Who: Ale PaulWhere: Buenos Aires; Foundry: Sudtipos; Other types: Feel Script, Semilla, Kewl Script, Compendium, Candy Script, Matagrosso, Koziupack, Mousse Script, Miss Le Gatees, Business Penmanship.
Inspired by commercial lettering guides of the 1940s, this is a thoroughly charming, floral, fluid, graceful, elaborate, and elegant script. With 1,470 glyphs and hundreds of alternate forms, this one should keep you blissfully occupied for a long, long time.
by Mark Simonson
Who: Mark Simonson; Where: St. Paul, Minnesota; Foundry: Mark Simonson Studio; Other types: Kinescope, Lakeside, Filmotype Zanzibar, Snicker, Proxima Nova, Coquette, Anonymous Pro.
Fortunately for us, Simonson wasn't born much sooner, (later going on to star in 1950s thrillers), so we can watch him create one wonderful face after another, whether it be a dashing 40s-inspired brush script like Kinescope or Lakeside, a masterful & respectful digitization like Filmotype Zanzibar, or an Art Deco-inspired masterpiece.
Mostra Nuova is inspired by a style of lettering often seen on Italian Art Deco posters and advertising of the 1930s. Six weights, from the very thin thin through to the blacker than black black; served with a sprinkling of deliciously drawn alternate forms, and you have on your plate a full-fat, don't-skimp-on-the-cream display face.
by Jonathan Barnbrook & Marcus Leis Allion
Who: Jonathan Barnbrook & Marcus Leis Allion; Where: London, UK; Foundry: Virus Fonts; Other types: Exocet, Infidel, Patriot, Mason, Priori Acute.

I wrote about four drafts trying to describe and explain Hopeless Diamond, then gave up. So let's go with: It's an insane display face residing in some twilight zone betwixt Stealth Bombers and the specimen books of 19th century wood type. Oh, and it has slab serifs, kind of. I love it. You could have hours of fun using this — set it solid, interlock the glyphs, or throw away the chalice and create the misnomer that is typographic art.
The name is derived from early models of the F-117, dubbed the hopeless Diamond owing to its shape — and that it looked completely un-air-worthy. Hopeless Diamond, then, is a Bumblebee of a typeface. It shouldn't fly, but it does. And who doesn't love the Bumblebee.
Permalinks to individual entries: Adios, Allumi PTF, Alright Sans, Biographer, Calluna, Catacumba, Mr Eaves Sans & Modern, Giorgio Sans, Hopeless Diamond, Memoriam, Mostra Nuova, Phaeton, Trilby, Leksa & Leksa Sans, Sentinel, Trilogy, FF Yoga & FF Yoga Sans.
2008 list.
Others I'd have included had I time: Alpine Script, Typotheque's Nara, Malabar, Tungsten, Karbon, Fugu, Vesper, Liza Pro, Opal, Buttermilk, and many more besides.
Other best of lists: Fontwerk (German), [Google translate link]; Typefacts (German) [Google translate link]
I hope that you find this wide format more suitable for this kind of post. I've been meaning to do something like this ever since reading Jason Santa Maria's A New Day post; and was further inspired by Oliver Reichenstein's recent What's Next in Web Design? Feedback from both sides of the fence most welcome.
Now, it's over to you: the first three words that come to mind for any or all of these typefaces.