By Abi Huynh
Last year Mathieu Christe and Berton Hasebe wrote a very thorough article detailing the general day to day of the Type and Media masters program. With this article we hope to outline an historical overview of the course and provide a brief look at the final project typefaces from the 08/09 class.
Type Design at KABK
The Type and Media masters program has a long history at the Koninklijke Academie van Beeldende Kunsten in The Hague. The roots of the program can be traced back to Gerrit Noordzij's Letter Programme within the graphic design department at KABK during the 1970s. Some of Noordzij's students during that time were Petr van Blokland, Erik van Blokland, Frank Blokland, Jelle Bosma, Luc(as) de Groot, Christoph Noordzij, Peter Matthias Noordzij, Albert-Jan Pool, Just van Rossum and Peter Verheul.
The course that began as a foundation in type design evolved by the early 1990s into the Postgraduate Course in Typography and Type Design. Alumni of that era include Akiem Helmling, Bas Jacobs and Sami Kortemäki (collectively known as Underware), Paul van der Laan, Eyal Holtzman, Albert Pinggera, Corina Cotorobai, Jarno Lukkarila and Pieter van Rosmalen.
In 2002, the Type and Media program officially started in its present incarnation. Currently, the ten-month course is divided into two distinct parts, and limited to eleven students a year. The first five months comprise eight different weekly classes that expose students to numerous fundamental aspects of the type design process. The second half of the course is focused mainly on the development of individual final projects.
One of the aspects of the course that is most well known is the tradition of calligraphy classes as a foundational component of the course. Three types of writing are explored: pointed pen with Erik van Blokland, broad nib with Frank Blokland, and brush calligraphy with Peter Verheul. The primary focus of the calligraphy classes is to learn the basic rules of contrast, the structure of the letter, and to attain a sensitivity towards spacing. This part of the course is based around the legacy and teaching method of Gerrit Noordzij, and while many of the current teachers were at one point students of Noordzij, each teacher has a unique view on the application of Noordzij's theories.
The program aims at a rounded approach, mixing both theory and practice components. The present curriculum also includes studies in stone carving, multilingual type, Python programming and RoboFab scripting, Typecooker exercises, designing type for different media and screen, and historical revivals. The practical side of type design and production is taught through various type design projects, with students becoming acquainted with programs like Superpolator, Prepolator, UFOstretch, and Metrics Machine. Ten of the thirteen teachers are practicing type designers and they convey their experiences in everything from multilingual support to hinting for the screen.
The teachers for the 08/09 year were Françoise Beserik, Peter Biľak, Petr van Blokland, Erik van Blokland, Frank Blokland, Paul van der Laan, Christoph Noordzij, Just van Rossum, Fred Smeijers, Jan Willem Stas, Gerard Unger, and Peter Verheul.
Type and Media alumni include type designers such as Frederik Berlaen, Kai Bernau, Susana Carvalho, Andy Clymer (at H&FJ), Nikola Djurek, Gustavo Ferreira, Laura Meseguer, Ian Party, Ilya Ruderman, Artur Schmal, Ludwig Übele, and Pascal Zoghbi. For a more detailed account of the history of type design teaching in The Hague the book Dutch Type by Jan Middendorp is an unmatched resource (pages 175 to 232).
Type and Media Flickr group.
Type and Media official site.
Typefaces, Type & Media 08/09
In September of 2008, eleven of us gathered in The Hague to start the Type and Media MA program at the Koninklijke Academie van Beeldende Kunsten; a mixed group from Australia, Canada, Colombia, France, Germany, Italy, Lebanon, Malaysia, and Slovakia. The experience level was equally varied—some had already released typefaces, while four of us had not even used FontLab prior to the course.
The gestation of the final project is undertaken in Peter Biľak's classes, where we present rough ideas for thesis projects and discuss them as a class. Alongside lectures dealing with multilingual type design and typography, Peter Biľak guides us through formulating unique type families with different approaches dependent upon the constraints of the brief.
In the second half of the course we focus on our final project typeface, and attend history and theory classes with guest lecturers such as Fred Smeijers and Gerard Unger. The final project development is primarily guided by Erik van Blokland, Peter Verheul, Paul van der Laan and Christoph Noordzij, whom we meet with on a regular basis, in addition to periodic presentations to all the faculty.
During the development of the project, instructors constantly stress the need to think about the constraints of the brief for a typeface—the variables derived from typeface's intended function—rather than focus on stylistic detailing. We learned to concentrate on the importance of structuring a type family around specific usage scenarios in order to provide a finely tuned tool for typography.
The following section contains small samples and descriptions of the final project typefaces (sorted alphabetically by typeface name). For more information and samples of the types, visit the group specimen site at typemedia09.com (or click an image to open up that section of the site).
Acon
Holger Königsdörfer
Augsburg, Germany
While conceptualizing his proposal for his final project, Holger noted that the majority of text typefaces used in contemporary book typography are typefaces that are based on the translation (broad nib) contrast. With Acon he sought to develop a pointed pen typeface that is optimized for book typography. The sharp features of Acon lend the texture a crispness that complements the openness of the proportions. The serious character of the family makes it a very capable book typeface.
Alice
Marta Bernstein
Milan, Italy
Alice began as an exploration of size-specific styles in type design, a harking back to the metal type era with individual cuts for each point size. Alice is intended for magazine typography where a functional editorial typeface is often paired with more expressive typefaces for headlines, with size-specific styles Alice seeks to fill both these needs. The text weight of Alice has a reserved and functional nature while the bold exhibits a more expressive character.
Arek
Khajag Apelian
Bierut, Lebanon
Khajag hails from Lebanon and is of Armenian decent. With his knowledge of the Armenian script he decided to design a typeface which addresses legibility issues with current typefaces used in school textbooks. Khajag saw that many current Armenian typefaces had overly systematized proportions (generally the same width and heights) and he researched the writing found in old Armenian manuscripts in order to reference the roots of the writing system. Rather than designing a sloped version of the upright as a secondary typeface, Khajag broke with tradition, experimenting with a "true cursive".
Arietta
Abi Huynh
Vancouver, Canada
Rooted in a fascination with detail typography, Arietta began with a thesis proposal that centred on the integration of multiple companion scripts within one family. Intended for non-fiction texts, Arietta roman required a serious and reserved character. The roman was developed by drawing the basic counter shapes first and wrapping the outer contours in order to attain a vertical stress for the counters. The multiple italics were conceived as a way to provide degrees of contrast from the primary text, the three italic companions each produce a distinct character and textural density.
BAT
Charles Mazé
Angers, France
BAT was a special case amongst the typefaces this year as the BAT family was specifically commissioned by the new independent French publisher Books, Art & Texts (BAT). Charles was tasked to create a typeface with the dual purpose of being used for the books as well as the identity of BAT. Initially he chose to develop the text face with a Didot-esque structure, partially due to the particularly French nature of a Didot, but also because of the prevalent use of pointed pen (Modern) typefaces for scientific and non-fiction texts.
Buendia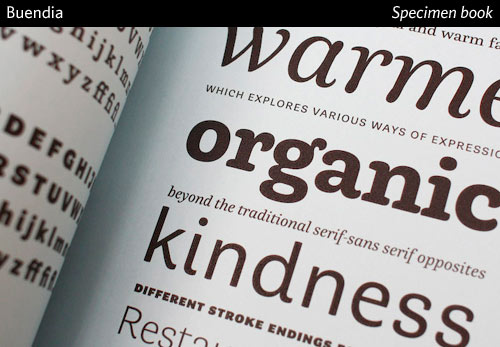 César Puertas
Bogotá, Colombia
César began the final project by looking at the relationships between serif and sans-serif counterparts within one type family. He was interested in a family that, in contrast to other larger sans and serif families, would provide many different voices but still retain a compact family plan. The text weights of the family are serif fonts while the extreme weights (light and black) are sans-serif. César focused on a transitional contrast incorporating rotational elements in the structure, making for a friendly and soft sans-serif with a warm serif text companion.
Callie
Sueh Li Tan
Penang, Malaysia
Starting with an affinity towards broad nib calligraphy, Sueh Li created a display calligraphy typeface as the primary starting point for her family. From this calligraphic base she derived a bold by further sharpening and formalizing the features and details. This process of reduction and formalization fed into the development of the regular weight which is intended for book and magazine use.
Doko
Ondrej Jób
Liptovsky Hrádok, Slovakia
With his roots and interest in cartoons, lettering and illustration, Ondrej sought to create a family that was heavily influenced by those styles. Doko began with an expressive and lively italic, and those forms were used in a more subdued fashion to develop the roman. The roman is intended to be a warm, expressive text face for magazine use. Doko has a unique personality that lends itself for use in display circumstances.
Malaussène
Laure Afchain
Toulouse, France
Laure's type family Malaussène is a novel take on the concept of a superfamily; it set out to include both a translation (broad nib) roman and an expansion (pointed pen) roman as well as a sans-serif variant. Taking into account the limited time frame of the course, she decided to establish the extremes of the family in order to show the range of weights and styles. As a family, Malaussène contains both text and display fonts in order to cover a wide range of usage scenarios.
Preto
Ján Filípek
Bratislava, Slovakia
Preto was undertaken as an experiment in creating a family that explores the role of serifs in a text typeface. During the development of Preto, Ján looked at the spacing in both sans and serif typefaces and how a semi-serif could be a mixture that addresses spacing issues. The resulting family comprises a clean sans-serif plus a distinctive serif companion. The semi-serif takes stylistic cues from each end of the spectrum.
Tasman
Dan Milne
Melbourne, Australia
Tasman began with the intent to create a newspaper text face with a crisp tone and a serious personality that would be ideal for the complex typography of information and editorial design. Dan researched past approaches to newspaper type and designed a sturdy, economical type family.
THANKS
Many many many thanks to our dedicated teachers: Françoise Beserik, Peter Biľak, Petr van Blokland, Erik van Blokland, Frank Blokland, Paul van der Laan, Christoph Noordzij, Just van Rossum, Fred Smeijers, Jan Willem Stas, Gerard Unger and Peter Verheul.
Thanks to our many guest lecturers and visitors: Paul Barnes, Kai Bernau, Susana Carvalho, François Chastanet, Tobias Frere-Jones, Jan de Jong, Robin Kinross, Mathieu Lommen, Rich Roat, Piet Schreuders, Christian Schwartz, Erik Spiekermann, Rickey Tax, Johan de Zoete and Pascal Zoghbi. Thanks to Gerry Leonidas, Fiona Ross and Michael Twyman for the lectures during our Reading visit.
Special thanks to: Francesca Bolognini, Emanuela Conidi, Liz Cox, Berton Hasebe, Thomas Klaui, Coline Sunier, Ariaan van Walsum and our colleagues in the University of Reading MA Typeface Design 2009 class. Thanks to Underware for providing their typeface Auto for the Arek description text. For student versions of essential software: Frederik Berlaen (UFO Stretch), Erik van Blokland (Superpolator) and Tal Leming (Prepolator, Metrics Machine). Lastly, thanks to our hard working studio printer, the HP Laserjet 5000 series, and our indispensable foosball table.