The Week in Type
It's been a little while since the last week in type. I have so many links, so many new releases, so much news to share, I wonder where I should begin. I know, let's start with a great site based on a very simple idea — Typedia is an encyclopedia of fonts, or in the words of its creator, a mix between IMDb and Wikipedia, but just for type. It's not that the information is not out there; it is, but where this site, the brainchild of Jason Santa Maria and co., succeeds is in putting that information all under one roof, so to speak. My favourite feature is the Good Deeds page, which makes it really easy to contribute.
Type Daily is a new site from ILT. It's simply a aggregation of type-related content on the Web: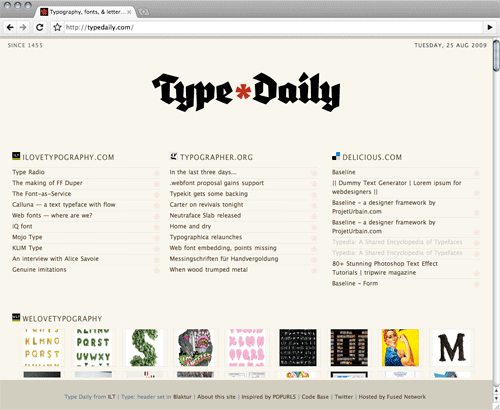 I will be organising the feeds a little, and adding a number of personalisation features in due course.
New fonts
There have been so many releases since my last week in type, so here a just a few to whet your appetite. A sans to begin with:
Organic from Neil Summerour. I think this is one of my favourites to come from Neil's hand:
There's also a brief write-up about Organic on the MyFonts blog.
Always excited to see a new release from Mark Simonson. Here's something inspired by Italian Art Deco posters of the 30s. Meet the wonderful Mostra Nuova:
Joining FF Unit and FF Unit Rounded is the new FF Unit Slab:
There's a great article on The Making of FF Unit Slab, on the FontFeed. Well worth reading. There's also an exceptionally creative digital specimen on Issu. The PDF version is here.
Inspiration
Absolutely love this piece by Joseph Newton of Veer. The type is P22 Kilkenny by Paul D Hunt. Two great talents, and a wondrous result:
Not a fan of the blurb — Merging the concept of typographic narrative with the dimensionality of paper,… — but like the concept, and love this piece from Ryan Riegner:
Via @elliotjaystocks
Some good work from JHQ. Like this ad they did for Veer:
Name the typeface!
I love to 'paint', so this scene is heaven, but wish I could produce something like this:
More here.
Came across the work of Tania Alvarez, via Ministry of Type. Fabric Type:
Like the Letter Playground from Nate Williams:
Nate has plans to open the site up for submissions.
I have a hard time keeping up with the posts on we love typography. Here's just one of my recent favourites: Suitcase's Tabac carved in stone:
Video
Fans of Helvetica, reach for the Kleenex, and watch Helvetica Destroyed:
http://vimeo.com/1919674
Fontplore, an interactive application designed for searching and exploring font databases. They should team up with Typedia.

Marionettype. Actually Marionetten from Fabian Wolf. Very clever:

And in honour of the brilliant Ed Rondthaler, who died last week at the age of 104. Here he is poking fun at English spelling:

Lovely article on Ed, over at The FontFeed.
Type links
Type Online — Ministry of Type
Jan Tschichold — Master Typographer (book review)
A lost Caslon type: Long Primer No 1
The different faces of type
What is Typekit? — Typophile
Collection of apothecary inspiration
Jack Pierson — neon signs
The making of Phaeton
CSS text rotation
Beautiful fonts with @font-face
Granshan 09 Type Design Competition
'Punctuation hero' branded a vandal
Blanka: Müller-Brockmann
Focus on FontStructors – Paul D. Hunt
More reasons to get excited about Typekit
Automatic page numbering
Typekit pricing
T Magazine
Typemytype.com font creation tools — via
IKEA opts for Verdana
New fonts & typographic features in Snow Leopard
Study terms and type anatomy while drinking your coffee from this Font me typography mug:
New foundries
Typejockeys, a new foundry from Austria. Setup by Anna Fahrmaier, Thomas Gabriel, and Michael Hochleitner. Beautiful looking Web site, and some lovely types too:
Be sure to read the article about them on TypeOff.
The second is BAT, a new French foundry set to launch very soon. BAT (The Bureau des Affaires Typographiques) is Jean-Baptiste Levee, Bruno Bernard, Patrick Paleta, and Stéphane Buellet. Leave your email and they'll shout the second they're open for business. And, of course, they're on twitter too.
Letterpress
I recently commissioned Paperedtogether to print my 'business' cards. Printed on 300gsm Lettra, set in Skolar regular and italic:
And Justin at Typoretum in the UK, has letterpress-printed a limited edition of my Typographic Restraint piece:
I must say that credit should go to the designers of Restraint, namely Ross Mills and Marian Bantjes. I simply set the type. And that's one of the wonderful things about this typeface — it's such a joy to set and to play with. It should be in everyone's type library. It's available through Tiro Typeworks (brief review of this TDC 2008 winner over at Typographica). The print is now available from the ILT shop. Use the code "twitter" for a 10% discount (available for the first few days). And, if you're looking for great people to work with on your letterpress projects, then I recommend both Krista of Paperedtogether and Justin of Typoretum — they both have ink in their veins.
Fontgame app
The Fontgame has proven hugely popular, so it's about time we gave it a complete overhaul and release it as an app for the iPhone and iPod Touch. The app should launch next month. 700 type samples, three levels of difficulty — from somewhat difficult through exceedingly difficult —, plus many other features. And, we're already thinking of new stuff for version two.
My co-conspirators (the guys who do all the hard work) are Kari (creator of the original fontgame, and co-creator of WLT) and Justin of the iPhone Typography app.
And finally…
The above is just a fraction of the links I collect, so I'm going to try to incorporate a sidenotes feature on the home page. Not sure where it will go; will probably end up redesigning ILT completely. Anyway, thanks for reading and thanks for sending in links. Enjoy type, and enjoy your week.