Let's jump straight in with some great photos from the Type & Media graduation exhibition. Really impressed, not only by the quality of the types, but by the specimens. Here's a detail from the graduation poster:
And here are a few of my favourites types (by no means all of them):
Arietta by Abi Huynh:
Preto by Ján Filípek:
Malausséne by Laure Afchain:
Abi, a graduate of the Type and Media Masters program, has kindly agreed to write a piece about the class of 2008-09. What's more, he's sending me a couple of the above graduation posters, that I will be giving away here on ILT, via Twitter.
Tokyo based designer Craig Mod sent me a link to this Web page demonstrating the potential of @font-face.
The page also lists numerous @font-face related resources and articles. You'll need a @font-face friendly browser like the new FireFox 3.5 (Safari and Opera seem to have some problems with @font-face referencing in conjunction with CSS pseudo selectors…). I like that even the Hedera used in the background (top-right) is text. What do you think?
Type news
Small Batch Inc., the company behind TypeKit has secured funding from some pretty big names. Among them: Twitter CEO & co-founder Evan Williams, Flickr founder Caterina Fake, and Automattic founder Matt Mullenweg. It's good news, but ultimately the success of TypeKit will hinge on its ability to broker deals with the foundries and distributors. Unfortunately I've heard nothing about who, if anyone, is on board. One of the problems is that the font industry can hardly be described as such. Perhaps the only way forward is for the larger distributors like MyFonts (Bitstream), FontShop, LinoType, and Veer et al. to broker deals with the people at TypeKit. Then the foundries (there are thousands) who sell their fonts through those distributors have the option to opt-in to the scheme, thus making their fonts available for TypeKit and its implementation of @font-face. But then that still leaves big and important and independent players like H&FJ. Interested to hear what you think.
via typographer.org.
New fonts
Kevin Cornell is one of my favourite illustrators. Insanely talented (& perhaps insane) and very funny to boot, you perhaps know him by his illustrations for A List Apart, or through his Web site Bear Skin Rug. I'm surprised he hasn't done this before. Anyway, better late than never. He and Randy Jones, designer of Olduvai (see below), have turned some of his lovely Victorian flavoured lettering into a font. Meet Phaeton:
Comes with a pretty extensive character set for this style of font, and numerous ornaments and dingbats, or miniature illustrations. This is going to find its way onto a book cover soon. Stay tuned for more from Cornell and Co.
And here's Olduvai I mentioned above. Not new, but I like it:
Be sure to take a look at the Olduvai PDF specimen too.
The latest addition to my own font library, Fugu, drawn by Neil Summerour and available though TypeTrust:
And a lovely script with countless intelligent alternates — Liza Pro from Underware:
Whatever you call it — 42-line Bible, B42, Mazarin Bible, Gutenberg Bible — you can now view most of the two volumes online, thanks to the Harry Ransom Center.
The images are from the University of Texas copy that was purchased back in 1978 for a cool $2.4 million.
Great piece over at LetterCult on the making of Mark Simonson's Kandal.
If you think working with FontLab is a chore, then step away from the computer, and take up your pencil, French curves and tracing paper.
You'll want this
until you see the price. Via @SuzanneLemon, who wrote, I want it so badly I'm thinking of selling my soul to buy it. Can you buy souls on CraigsList? (Gogol-List, perhaps).
Nice die-cut stationery from Hyperkit:
Via Do it for the fame.
Experimental type design from Friday Fonts:
Via @designworkplan
Events
Seb Lester will be holding an exhibition of new work at the Electrik Sheep gallery in Newcastle (UK) next month. I've been lucky enough to have a sneak peek. One of the new pieces is certainly his best piece yet.
If you have a type-related event that you'd like to share, then simply send it to [email protected], with type event in the subject line.
Letterpress
I'll let you into a little secret. I have a thing for girls who print. An ink-smeared girl with dungarees— OK, I'd better stop there. Let me introduce you to the ultimate male (or gay girl) type nerd fantasy, Ladies of Letterpress:
There are a number of Ladies who print on Twitter too. Here are several I know of:
dolcepress dingbatpress, kristaprints, and moontreepress.
If you know of more, then leave them in the comments and I'll add them here later. No stalking, please.
And some work: this simple and lovely card from Dingbat Press:
Discovered WoodTyper while listening to Nick Sherman on the RBtL podcast. A site dedicated to wood type (something Nick knows a thing or two about):
There are business cards, and then there are business cards. Half-inch thick, and made from recycled CDs and water containers:
Be sure to subscribe to FPO — great content.
Love this cover from USSR in Construction, a Soviet propaganda journal:
Via @iamkhayyam
Like this cover and spreads by Stockholm-based Frankenstein:
Ballets Russes The Stockholm Collection, published by Dansmuseet & Langenskiöld.
Font picks
My first typefaces of the week is a sans called… wait for it… Fishmonger. Love the tapered joins in the lowercase:
It's available in numerous weights and styles (50 fonts!). Among other things, I think it would make a great logotype choice; or used to set an Architectural journal or magazine. [PDF specimen]
From minimalist sans to something strongly calligraphic. Vatican by Alan Meeks:
Type links
An interview with Nick Sherman of MyFonts — RBtL
The art of the carved letter (video) — via
Go Font Urself 2
What was next (audio)
Fixing Futura
Revised Web fonts proposal
New work on fonts at W3C
An interview with Canada Type's Patrick Griffin
Angles of acuteness
Wedding invites — design sponge
The Questa project
First Saarbrücken Typostammtisch
Gargantuan give-away
I've decided to move the give-away to the beginning of next month, because ILT will turn 2 on August 8. So the give-away will celebrate ILT's second birthday, and is ultimately a way of saying thank you to ILT readers.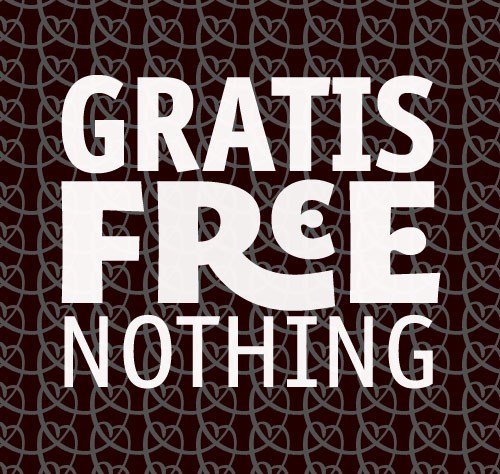 I won't list all the prizes here (there are more than 40). But these should whet your appetite:
$200 font voucher from FontShop, Fonts & merchandise from Veer and House Industries, a limited edition Flames print by Seb Lester, free hosting from Fused Network, plus lots of Field Notes, limited edition screen prints, letterpress stuff, books, CDs, DVDs, and much more. Most of the prizes will be given away via Twitter, with a couple of the larger prizes going to the winner of a competition (yet to be arranged). I will begin the give-away on August 8, and will publish more details then.
But why wait for next month! Today I'd like to give away three letterpress prints by Kevin Cornell, and available exclusively through Coudal:
Just include the hashtag #ilovetypography in a Tweet, and you're automatically entered into the draw. I'll pick three winners (one letterpress print per winner), and announce them in 48 hours. I can ship anywhere.
Have a stupendous week.
Who can name the fonts and styles used in the gratis, free, nothing graphic?