The Week in Type
I will soon announce ILT's gargantuan give-away. There are 40 prizes, from vouchers to buy type, and books, to posters and Helvetica Moleskines. As soon as ILT hits 40,000 RSS subscribers, I'll run the competition. Basically, I'll do it like this: 20 prizes for the best-submitted type tips; the remaining 20 prizes will be distributed randomly to those who follow me on Twitter. If you haven't already subscribed, then all it takes is a mere click.
Let's get started with something free — a free font. A product of the inspired FontStruct, Sessions, by John Skelton, is a free modular display typeface that really is quite special. The specimens are particularly creative, and demonstrate how this face might be used: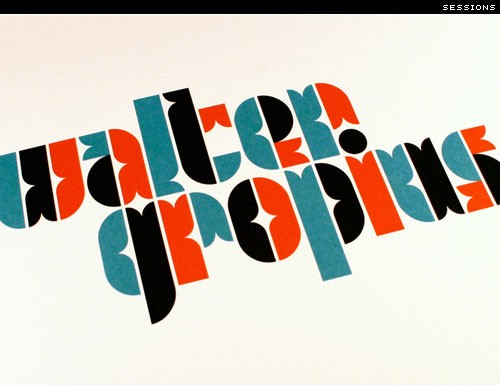 You can download the font from FontStruct. There are more samples on Behance.
I'd like to see it released as an OpenType font with features like those available in Linotype's Madame.
I'm feeling left out. These were sent out by Brazilian design studio, ps.2 arquitetura + design as gifts. Perhaps they'll send a set to me (not-so-subtle hint):
Via Iain Claridge.
Something for the body. New from the Typography Shop, the sans and serif tees:
Never quite sure how to crop these.
And new from ISO50, is Vuela:
In the very unlikely event that you haven't seen Scott Hansen's posters, then do take a look, I recently bought Svenska.
Love this little book from Brighten the Corners. Meet Stanley & Marvin:
If you like this, then you'll also like The Serif Fairy.
Lots of good work from A2/SW/HK. I particularly like this custom type for Foreground:
I like this work by Brazilian ps.2 arquitetura + design, and for the Museum of Image and Sound:
I also like some of the spreads, and the internal repetition of the cyan from the cover. The typeface set on the cover is the monospaced Simple by Norm, that was later developed as a set of proportional fonts for the Köln-Bonn airport in Germany.
And, talking of monospaced types and Lineto, their typewriter typeface, Valentine (a faithful digital reproduction of the type designed for the Olivetti Valentine) is worth taking a look at:
This is one of many decorated initial caps from illuminated manuscripts, photographed by Eben Sorkin. Absolutely beautiful, isn't it:
What's more, be sure to take a look at Eben's Letters in old books collection. Here's a little Jenson to whet your typographic appetite:
From decorated type to wood type. The online museum of wood types. Thought I'd mentioned it here before, but discovered I'd only tweeted about it:
Thanks to Antonio for the reminder.
For those seeking a fine start to the blissful[?] institution that is marriage (I'm tempted… but will say no more), look no further than 100 Layer Cake. This piece by Hammerpress:
What do 18,000 nails and the word enjoy have in common. This, by Juan Camilo Rojas:
On a lighter note
Kern in Space is fun game from Veer Ideas. It's also from whence I borrowed stole this article's title:
Type links
Oh No! Not More Web Fonts!
Typography tools for Linux
E-book design, and typography
Congress on type — via.
42 typography resources — via Peter van Impelen.
Mayflower Smooth Pro — P22
FontShop welcomes three new foundries
An interview with Ray Larabie
Helvetica & Univers
Printing terminology
Web font embedding, points missing
Web fonts now (how we're doing with that)
I really want to like these new covers from Faber & Faber, but I just find them incredibly dull. I want to like them because they are an attempt at a purely typographic design; I don't like them because I can't see the design; I'm just seeing text slapped on a cover. Perhaps you see something else:
Or perhaps my judgement is prejudiced by my antipathy for Beckett. Of these covers I'm reminded of the words of Vivian Mercier who wrote that Beckett (semi-coincidentally the author of the above books),
has achieved a theoretical impossibility — a play in which nothing happens, that yet keeps audiences glued to their seats. What's more, since the second act is a subtly different reprise of the first, he has written a play in which nothing happens, twice. — Irish Times, 18 February 1956, p. 6.
Sidetracked there for a moment. What next? Ah, yes…
Another free display font. Cube from Font Fabric:
This does not come as a font file, but rather as vectors in an eps.
Read about the Dollar Redesign Project on the exceptional Ministry of Type:
Video
An epic battle. Helvetica vs Arial. Doesn't do anything for me, but it might for you:

By contrast, this one made me chortle. Partly because, to my surprise, I make a brief (2:01), subtitled appearance in it:

Some very pretty animated type from Madrid-based Cocoe:
http://www.veoh.com/browse/videos/category/animation/watch/v18506979QqB2yBqJ
New releases
Whereas the relatively recent slab serif Archer, is the product of numerous historical sources, Sentinel takes the Clarendon, dusts it off, refines it, and makes it so much more useable (twelve weights & their italics). What most surprised me is that no-one else had really attempted to fill the Clarendon gap.
I've always found Clarendon to be a little claustrophobic for my taste; just a little clumsy too; and I always imagined that it had something to do with those small apertures. Guess I was wrong. I haven't spent enough time with Sentinel to quite figure out why it works so well. I suspect some kind of magic. I picture Jonathan taking the fonts out of the oven; a solemn nod in Tobias' direction, and he dusts the freshly-baked glyphs with something that resembles star dust. Anyway, the great thing about Sentinel is (whether or not you're a fan of the Clarendon) is that H&FJ has reinvigorated or even resurrected the 'genre'. I really think that Sentinel will come to be the go-to Clarendon.
Neutraface Slab from House Indistries, accompanied by the quality type-related merchandise that we've come to expect from them:
New from Linotype is Libelle, a Copperplate Script by Jovica Veljovic.
Comes replete with all the OpenType features that one expects to find in a good script — contextual alternates, discretionary ligatures, initial & final forms, etc.
We love typography
If I were to list all my favourite picks from WLT, I'd be forced to start another post. So, I'll just feature this drawing by artist Jason Manley:
You can see more of Jason's work on jasonmanley.com.
And this spread from the Rare Book Room:
And a third from Gig Posters, and designed by Salvador López:
ILT shop
I have the last remaining prints of Seb Lester's beautifully screen-printed Mightier. These are the last available anywhere, so if you want one, hurry. Moreover, I'll be printing a couple of my own posters; and, I've invited several designers to design new and exclusive posters for ILT. Ideally I'd like to offer two versions of everything: not everyone can afford a limited edition poster or letterpress print, so I'm hoping to offer a standard, less expensive, offset version for all designs. I'm discussing the details with my printer, and will let you know more soon. If you're a type designer, and would like to design a poster for ILT, then let me know. Stefan Hattenbach is designing the first in the series of posters by type designers.
And, finally…
It's no exaggeration to say that ILT wouldn't exist but for the support of The Deck. They're running a little survey, so if you have a couple of minutes, then please let them know what you think. It's the most fun you'll ever have with a survey, I promise — though question #21 is something of a challenge.
I hope you enjoyed this week's roundup of all things type. Have a brilliant weekend.