The Week in Type
The move to my new host, Fused Network, went very smoothly. As iLT has been expanding pretty rapidly, a server with a little more oomph was required. If you're looking for great hosting and fantastic support, then try Fused. David, the main man at Fused is something of a server superstar.
Chelsea Darling was the winner of my first twitter-type prize. Chelsea won a copy of Simon Loxley's The Secret History of Letters. I've decided to do this every week. So, from now on, I'll pick a random follower and send you some type-related goodies. And, no, Chelsea Darling is not a character from AbFab — it's her real name.
OK, let's kick off this week's the week in type with something I really want need. The Helvetica Moleskine:
Great little video from RocketBoom, in which Vincent Connare, creator of Comic Sans (by no means his only achievement), talks about the ubiquitous hand-drawn type:
See also John D. Berry's The man who made Comic Sans.
House Industries introduces the absolutely exquisite Alexander Girard Collection:
Love these alphabet blocks:
House kindly let me use one of their photos to create an iPhone wallpaper which you can download over at TypeNuts.
Nice idea for a Flickr Group, Book of the Week, where you're invited to create your own book cover — based on an existing cover:
Take a photo of some type or lettering with your iPhone, and upload to Huge Type:
Letterpress
Business cards from Studio on Fire:
via @aisleone
Free fonts
Two free fonts from Ascender Fonts. First, Mayberry Pro Semi Bold:
Second, Resonance Bold:
You'll need to sign up to download them, but it's free to do so. Let me know if you make use of them.
Lavoisier, the free and Open Source font I mentioned in last week's the week in type has been updated to include support for Cyrillic.
New type
First, the surprise release of Skolar. Had expected a much later release date, but it's available from TypeTogether from today. Skolar is the type used for iLT's default masthead, and I'm a big fan:
David tells me the Bold Italic will be released in April. Be sure to take a look at the new Skolar PDF specimen too.
Newt Serif by Nathanael Bonnell:
Not sure how to describe this one. It doesn't easily fit into existing categories. It has a hand drawn quality about it, though it's a seriffed face. I don't have a license for this one, so haven't had chance to play with it. Anyway, I think I like it. What do you think?
SangBleu & SangBleu Sans from BP:
Bolda display is Morten Iveland's first typeface.
A limited character set; only lowercase a-z, but comes in Regular and Outline. I'd like to use this on a poster.
The League of Moveable Type intends to create a repository of Open Source fonts:
Typographic posters
This could really become a great resource for typographic posters. Mentioned in passing a while back, but has been updated since:
This Sagmeister is one of my favourites:
Love this poster by Spin from the recent We are Tokyo exhibition:
Like this poster from the Romanian Citrus Design:
I lost faith in the Tooth Fairy after getting just 10 pence under my pillow. And that wasn't during a recession. However, for those less cynical, how about the letterpress Tooth Fairy kit:
Via @inspirationbit.
Looking forward to the publication of Oded Ezer's The Typographer's Guide to the Galaxy:
[iLT tag: Oded Ezer]. Via @NirTober.
Really like the look of this site:
Another resource for typographic imagery, the new image tagging imgspark. Take a look at the typography tag:
Nice spread/layout from Pinch for Fios, Inc.
Also see Pinch's work for Hawthorne Books.
Type links
New OpenType editor: DTL OTMaster
The Printing Museum in Tokyo
LegiStyles for NetNewsWire
Comic book lettering — via
50 typography resources
Everyone's a number
Type Battle 35 — stars & stripes
Valentype 2009 & win a Fonts — via
Hand drawn type book cover — via
Spotted a Hobo?
Interview with Jonathan Barnbrook
Are fonts embedded with sIFR safe from theft?
Birmingham (UK) kisses the apostrophe good bye — via
Can't believe I haven't featured this site on iLT before. if you haven't already seen it:
Some lovely photos from the Musée de l'imprimerie in Lyon.
Love this kind of experimentation with letterforms:
Another excellent grids tool, Fluid 960 Grid System:
Where tweets mean prizes
I've offered a number of give-aways in the past, and I've often done so through the comments; leave a comment, and I pick one at random. Once that led to some 300 comments. In future I'll give away things via twitter (unless someone has a better idea). I have absolutely no problem with you 'unfollowing' me after the give-away; it's just an easy way for me to pick a winner.
prize 1
a license for Bolda Display mentioned above. What do you need to do to be in with a chance of winning? Well, if you're already following me on twitter, then nothing. I'll pick a winner at random from my twitter friends within the next few days.
prize 2
a copy of Suitcase Fusion 2 for Mac OS X, from Extensis: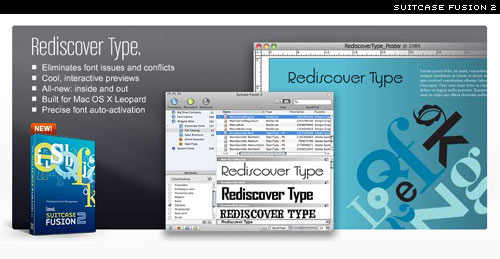 In the meantime you can download a free 30-day trial. If you'd like to be included in the draw for this one (remember the app is for Mac OS X only), then simply let me know on twitter. Add #ilovetype so I can find it. Thanks to Extensis for donating this prize.
There will be prizes every week from now on. Next week will be a book or some fonts. If you're already following me, then you're automatically entered into the weekly draw. Spread the word. And, If you're in a position to offer prizes, then let me know.
And finally …
Hope that at least some of the above inspired you. Wherever you are, and whatever you're doing, have a great week.