The Week in Type
A belated Happy New Year to all. It's that back-to-work time for everyone. Feeling inspired? I'm hoping that 2009 will pass by a little slower than 2008. Here's ILT's first post of 2009. Enjoy!
You may have wished for one of these at Christmas. The leather 'type bag' from Assouline. If you have a spare $450, it's not too late:
Via typornography.
House Industries, makers of fine type, metal ampersands, and, just about anything type related, have redesigned their Web site. Very nice too:
Some nice illustration and lettering from Steve Leadbeater:
A a couple more pieces by Steve, including this great found type compilation, available as a print: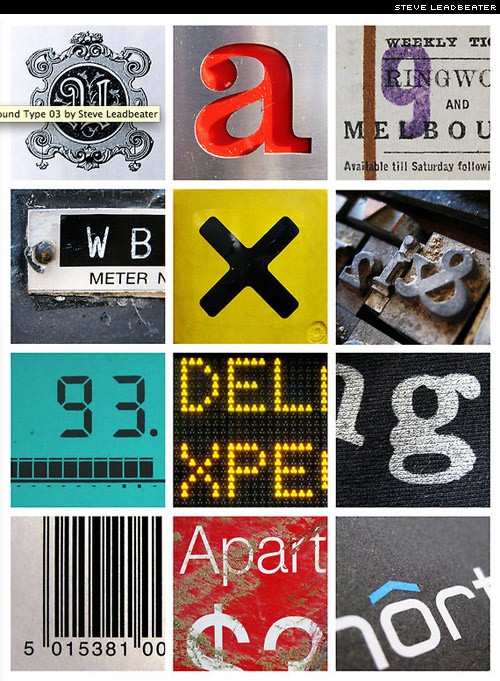 and this clever t-shirt:
You can check out Steve's other work on redbubble.com.
Plenty of inspiration and numerous illustrative type techniques to be found at debutart.com:
Via Veerle.
Very clever chair alphabet from Amandine Alessandra:
The Designer's Review of Books is a great sites with some wonderful reviews; and a lovely masthead set in Ale Paul's Buffet Script:
Another victim of the economic downturn is the bilingual (Japanese & English) PingMag, for a long time one of my favourite graphic design blogs. At some stage I guess they'll actually take down the site, so I suggest you head on over to PingMag's typography category and eat it up before it's taken off the table. Some great articles, including an interview with Linotype's director of type, Akira Kobayashi; a 2006 interview with Jonathan Barnbrook, and lots more.
In 2008, I stumbled upon numerous posts about the typography of film titles. But I think Art of the Title is the first Web site dedicated to the topic:
Thanks, Anton.
A stunning image from Ebon Heath's Stereo.Type: a typographic ballet:
Thanks, jcapDesign.
Lovely illustrative type from Jonathan Caplan:

Some nice illustrations and spreads from Jihad Lahham:
I've mentioned this site before, but it has recently been updated to include most of the type specimens (back to 2004) of the work of Uni of Reading MA in typeface design students:
Well worth taking a look it.
Smile type
I have nothing against Helvetica, but I don't think any amount of money would have me repeat this:
Found on the Typophile forum. The first comment made me smile:
What made you go with bold?
Priceless.
I challenge you to find a more bizarre f:
As a good friend of mine commented, "…this is what happens to signage when hair stylists are involved." Indeed, stick to hair.
This is fun, though I don't believe that it has been digitised yet. The toast font from Radomir Tinkov:
Like these experiments from Jakob Nylund:
Type links
Introduction to Brockmann (PDF)
Recasting Caslon Old Face
The Truth About Typography
Hamilton wood type
It's type o'clock
Guerrilla pixels
Able Parris' January desktop wallpaper
The end of typblography
Be sure to read Dan Reynold's Twelve memorable type occurrences:
Ivo Gabrowitsch's list of top types of 2008 is another must see. Die besten Schriften 2008:
Free fonts
The Danish publishing company Aller has released their Aller Sans for free:
Used for today's masthead. Thanks to Mark Adkins for the heads up.
News
Just in case you missed my announcement on twitter, here's a new site from iLT. Typenuts is a place to download free iPhone and desktop wallpapers. Some designed by me; many others contributed. You can also subscribe, so that you always have a fresh stream of papers in your RSS reader.
I'm also working on another site (almost identical in design to TypeNuts) for showcasing Type-related posters, with links (if available) to where they can be purchased. No launch date on that one, but coming soon. If you'd like to get involved in gathering resources for that site, then mail me at johno@ this domain, please.
Thanks to everyone for reading and contributing to ILT in 2008. Do you have a favourite post from 2008? I'll do more than my best to step things up, and bring you better content, and more of it. Hope you all have an inspiring, productive and, above all else, a happy 2009.