Questionable Type
First, thanks to Kris Sowersby for his wonderful review of FF Balance. It certainly had me looking at that particular type in a fresh light. Today, we have quite a hefty Sunday Type, so let's get started. A couple of weeks ago I posted an illustration of ten asterisks. Today, we have the humble question mark.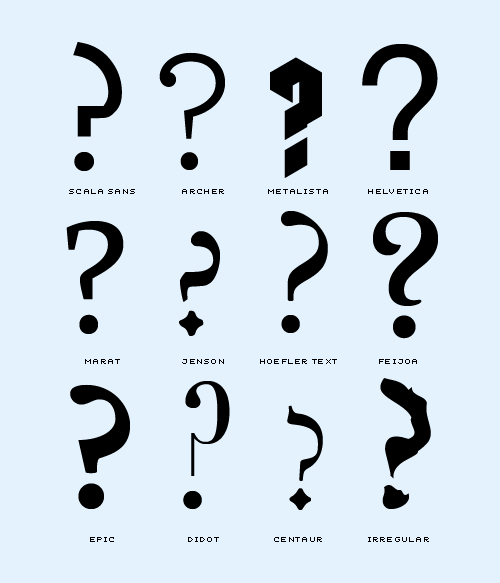 No one is quite sure how the present form came to be. Some believe that It originated from the Latin abbreviation for question, Qo, where the Q was written above the o.
There are numerous other theories, ranging from the downright silly (the cats tail) to the more plausible, like the question mark evolving from an inverted form of the semicolon. Interestingly, the semicolon [U+003B] is used in Greek as a question mark. Perhaps one day, we'll know for sure. German readers may also enjoy this TypoWiki Interpunktion (punctuation) article. The question mark is also known as an eroteme.
For most of us, body type rarely goes beyond scribbling a telephone number on the back of our hand. This, from for the love of type, is a few levels up from that:
And no, I will not be posting similar photos of myself covered in lettering (probably illegal in 32 states and as many countries). Many of you will know that the terms uppercase and lowercase come from the two cases used in typesetting. However, with the introduction of the California Job Case, we see those two become one.
Here's the lay or layout of a California Job Case:
Wish the photo extended to include those posters underneath. Thanks to Jason Santa Maria for the photo. In fact, Jason was lucky enough to join one of Tobias Frere-Jones' New York City Type Tours. Be sure to check out Jason's Alphabet City photos too.
From setting type by hand to casting by machine. The Monotype machine was a stroke of genius; here's a short video explaining how it works.
I only wish I had room for one. And from MonoType to Ottmar Mergenthaler's brilliant LinoType, I recently read the really fun A Line of Type: 120 years of typographic history. I recommend it to you.
I'd like to see them tackle an entire history of type using the same format.
Robin McDowell mixes old and new with letterpress and ornamental wood block type designed in Adobe Illustrator and cut by laser.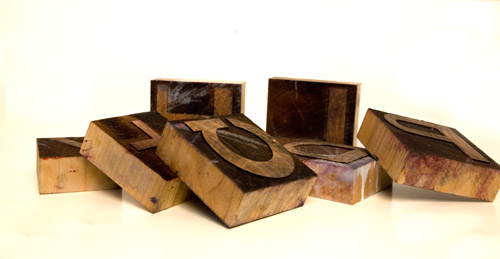 Also like this lettering from the very same Robin McDowell:
This is what she has to say about its construction:
This design is based on the numeral 3 from ITC Kabel undergoing several ninety degree rotations. The serifs were added later and completed with rounded tips for a friendliness otherwise absent.
Some more of her work here.
New Type
Primavera is a new type from Sudtipos, a collaboration between Alejandro Paul and Angel Koziupa:
available in regular and italic.
Inspiration
Nice calendar. Not available now, but for 2009, perhaps.
Via jmdickinson on Twitter.
Give Lego to a type nut, and you're not going to get a rocket. This young lady is obviously a terminal case:
Smashing Text Effects
Inpsired by PSDTUTS, Aegir Hallmundur at the Ministry of Type produced this gorgeous example:
Sunday Links
Flash Player 10: Languages and OpenType
My Fonts: Rising Stars
TypeCon2008—hurry and book!
CSS Gradient Text Effect—web designer wall
10 Examples of Beautiful CSS Typography
Roman Tragedy—great article
Behind the Scenes of Exquisite Web Typography—part 4
How bold can Darth Vader be?—Ironic Sans
An alternative to Comic Sans—FontBlog
TypeBook—AceJet 170
98% off Font Mesa's complete SilverLand family. See the Silverland page for details on how to claim the discount (just enter a gift code, and you'll get the whole family for just $4.98).
Coming Soon
Jos Buivenga has almost finished his additions to Anivers (italic, bold, and small caps, plus extended language support). Looks as though it will be available this week some time. Here's a taste of what's to come—in the shape of a desktop wallpaper:
As I'm still organising a prize for the crossword, I'll post it later this week, along with details of the prize. Thanks for your patience.
We have some more interviews soon, plus that piece on Why Type Matters, and the fifth installment of my type history series, Slab Serif.
Be sure to have a great week!