Twinkle, Twinkle, Little Star
Adrian Frutiger turned 80 this week. I'm sure you'd like to join me in wishing him many happy returns. In fact LinoType has a page where you can leave him birthday greetings. I'd like to begin by thanking Stefan for the wonderful interview, and thank all those who read and commented. I'll be sure to let you know when Stefan releases his next typeface. Perhaps we can have him introduce it to us. If there's someone you'd like to see interviewed by ILT, then let me know.
If you like ampersands, then I guess you might like The Ampersand, a web site devoted to…wait for it…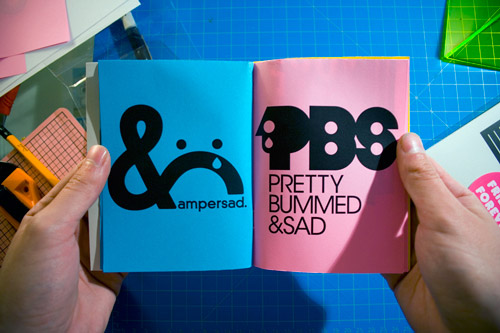 Talking of ampersands, one reader, after reading Jonathan Hoefler's piece on the ampersand, asked if I might write about my ten favourite asterisks. I must admit that I've never given it—the asterisk—much thought; and although the ampersand lends itself to some rather elegant and sometimes quirky interpretations, the asterisk is a little more limited. However, if there's an asterisk that you're particularly fond of, then let me know. Here are some to get you started:
And if etymology is your thing, then you might be interested to learn that the word asterisk is from the Greek asteriskos, meaning 'little star'. I wonder if anyone can name the typefaces!
From stars to brooches. If I were a brooch-toting kind of person, then I might well tote one of these:
Thanks, Sonia. And if a brooch is not quite big enough, then this furniture might fit the bill:
Thanks, Michael.
Calligraphy
Though calligraphy is not typography, it can teach us much about type, and why letterforms are as they are. In fact, if you are designing type (sans or serif), then you might be surprised how much easier it is if you have some grounding in the art of calligraphy. So, how about some free resources to get you started. Alice Young's blog is a good place to start. Then there's the work of the very talented Georgia Angelopoulos, of the Fairbank Calligraphy Society.
Then you might like to take a look at these six free e-books on the subject.
Everything from the above Ludovico Vicentino's Operina, on the chancery script, to Benedikt Gröndal's Handwriting Models, and Leonid Pronenko's Russian Calligraphy. And, for video, you might enjoy these:
For more in this series see the IAMPETH web site. I've mentioned this web site before—this time I shall say nothing about its design; only that it's a truly wonderful resource.
And this is one of many from John DeCollibus:
http://uk.youtube.com/watch?v=GjUQ4CckYNU&feature=related
This from Adam Romuald Kłodecki:
A search for calligraphy on YouTube will reveal many more.
And finally, some Online Script Lessons.
Free Fonts
Today's is one of exceptional quality. But coming from Fred Smeijers, you'd expect it to be something special. The free font is the Semi Bold weight of Fresco (also used in today's header).
Remember, this is for a limited period only, so hurry. Also worth listening to Fred Smeijers on Type Radio. And if you haven't yet read his CounterPunch, then I recommend it.
Inspiration
Smashing Magazine has another bumper Showcase of Big Web Typography. If you thought my mastehead was big, then stand away from the monitor and take a look at this one:
Bechira Sorin has some very creative experimental type. I particularly like these two (Swade and Smoke, respectively):


Love this poster from Peter Crnokrak. A_B_ Peace & Terror visualises the degree to which each UN member state contributes to peace and terror:
Read more about it on AisleOne.
New Type
Fruiger Serif, a collaboration between Adrian Frutiger and LinoType's Type Director, Akira Kobayashi. Wish they'd put together a better PDF specimen.
And, no, Fruiger Serif isn't Frutiger with serifs clipped on. Rather it's a reworking of Frutiger's Meridien (1957).
Sunday Links
Doodle Covers—Unbeige
Fonts are like….—Swissmiss
T-shirts: type+humour—Sackwear
APA Letterpress—thanks to Peter
Ratatatat—Comic Font
Calligraphy Portraits—thanks to Able
An interview with Nick Curtis—MyFonts
Great photos of Fraktur mon Amour—Ministry of Type
TypeSites—Legendary Aircraft site review
Always happy when readers send in their take on "i love typography". Here's Tamlyn Rhodes' made with some old card letters he found:
If you have one of your own, be sure to let me know.
Today's Types
ITC Lubalin Graph—a slab serif Avant Garde Gothic.
and the rather fun and bubbly DF Gusto, from Rian Hughes:
Coming Up
The fourth installment of Type Terms, Type History, Modern (or Didone); and more interviews, typeface reviews and a book review. Next Sunday I'll publish the second ILT crossword too.
Have a great week.