You may, or may not, have noticed the featured fonts over on the right and down a little — in that black box. These fonts are sometimes new releases, or sometimes older ones that I've rediscovered. The wonderful thing about discovering and rediscovering all these great faces, is that I have more good typefaces to choose from; the only drawback is the dent it's making on my credit card. Anyway, on with the show.
This weeks new face has a sweet taste, a full body, and leaves a lingering glow in one's throat. It's the 80% dark chocolate of fonts. In fact, if I ever go into the chocolate making business (and that's unlikely), I will name my chocolate after Mark Simonson's latest face, Kinescope, "a dashing 1940s-style brush script, inspired by hand-lettered titles in the Fleischer Brothers' Superman cartoon series." I can just picture customers entering my little Chocolatier and asking, "I'll take two bars of Kinescope, please."
When I first saw even a small sample of Kinescope, I just had to lick my lips. Some typefaces make me go "ah", while others elicit an "oh". Kinescope is definitely in the "oh" camp. But that's quite enough drooling from me; let's take a look:
I was intrigued by Mark's choice of name, and when I quizzed him about it:
"Kinescope" is another word for motion picture, but one that's not used any more. The fact that it's an obsolete word suggests the historical period that inspired it. I also had a nice sampling of the characters of the font. — Mark Simonson
Although Kinescope's bodywork looks pretty sleek, it's not until you lift the bonnet, that you really begin to appreciate the hard work that has gone into fine-tuning it. One of the problems with many brush script faces is that certain letter combinations just look odd, and the connecting strokes when unconnected (for example when the character ends a word), just don't look right. Well, smart designers, include contextual alternates. These are accessible in most image/text editing software; for example, in Photoshop CS3, the contextual alternates are available here: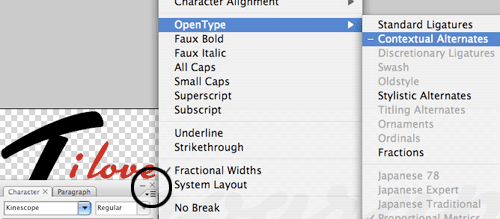 Not all fonts include these contextual alternates — and not all need them; perhaps some of yours have them, but you've never realised they were available. They are called Contextual Alternates because they offer alternative glyphs for different contexts or situations.
Note in the example above: No.1 does not have Contextual Alternates applied, and so the "e" looks as though it's reaching out to connect with the next letter, which just isn't there — it looks like one of those stray puppy dogs holding out its paw.
In the second example, the "e" flows smoothly into the following "l", so no problems there, and therefore no need for any Contextual Alternates.
The 3rd example is the same as the first, only we have applied Contextual Alternates to the letter "e"; the font has a quick think .. .and muses, "ah, the 'e' is all alone, so we can replace the 'e' with the long 'tail' with something more appropriate." Clever isn't it.
To download a sample pdf, or to learn more about Kinescope, simply visit Mark Simonson Studios.
So what do you think of Kinescope? Where and how might you use it?
I bought two copies of Kinescope. Not because I like it so much — that would be silly; the second is a prize. All you need to do to have a chance of winning this beauty is answer this question:
Mark Simonson Studios has one typeface in its portfolio named after something you might find in the kitchen. Name that typeface. All correct entries will go into my new bigger hat, and a single winner will receive Kinescope, the font. Send your answers through the contact form, please. [competition now closed. See Kinescope Font Winner].
To discover who won the two copies of Ellen Lupton's Thinking With Type, just follow this PrizeWinners link.
Coming up soon:
Back to school with more type terminology, and a new series on The History of Type in four parts. Next week we also have the first in a two-part series on "Getting Started Designing Type", from one of iLT's US correspondents. If you'd like to read an interview with me over at SheUnlimited, you can discover what I think of PMS, Prada, and the latest JayLo gossip :)
To ensure you don't miss out, join the type revolution and subscribe to I Love Typography today.